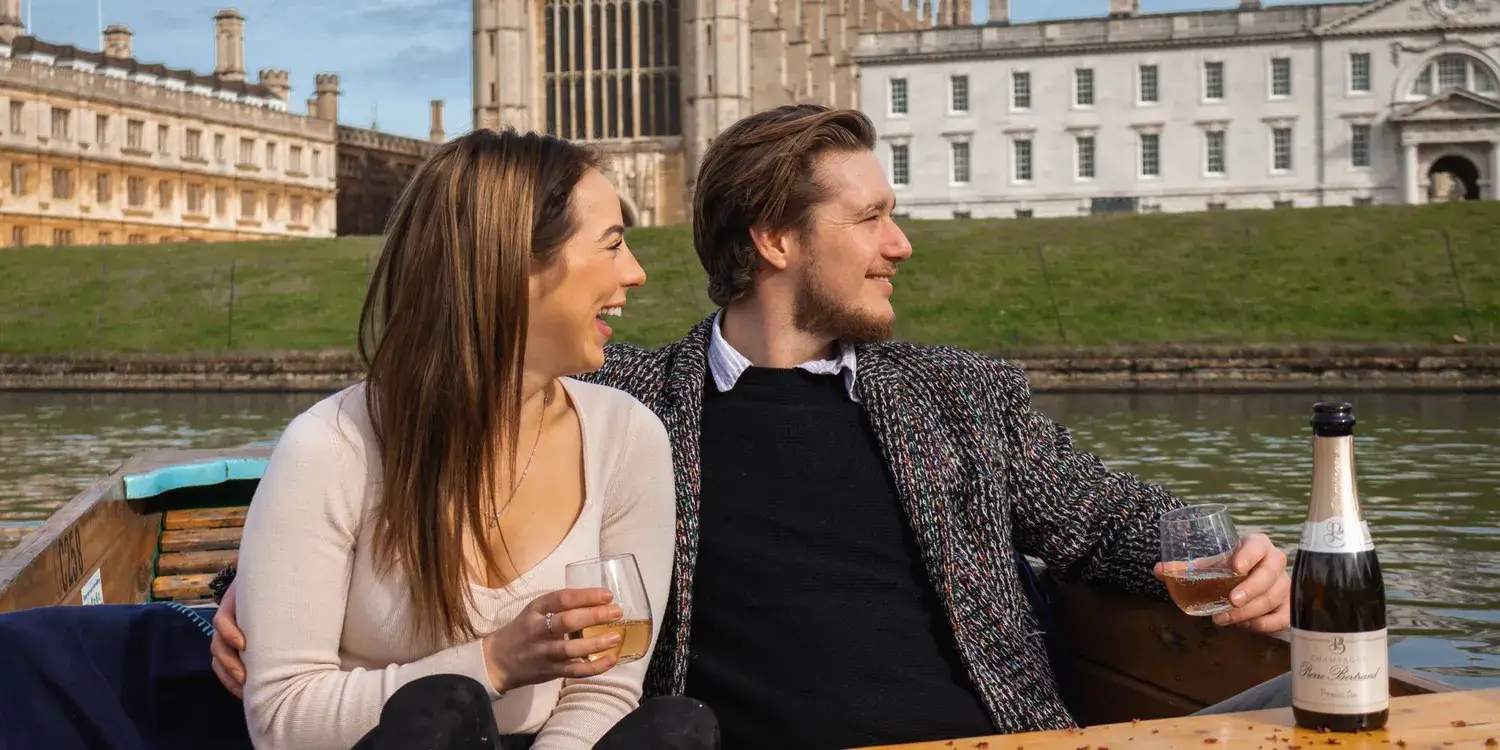 Experience the quintessential activity for Cambridge lovers when you book a romantic punting tour of the College Backs.
Your private tour guide will be waiting to lead you on a one-of-a-kind experience, exploring the magical history and splendour of our beautiful city. You will discover the stunning riverside Colleges, beautiful bridges, and sublime private gardens, as you glide along the famed Cambridge Backs.
Enjoy the romance of the River Cam together as you create new memories on this 45-minute tour.
Your boat will be dressed in cosy blankets and cushions, decorated with flower petals for the perfect romantic touch. There's the option to add a little sparkle with a half bottle of award-winning chilled Champagne and two flutes, as a part of the ideal date for two.
This tour is the perfect fit for couples celebrating an anniversary, and we also recommend it to any who wish to celebrate their love on a date or those looking to create lasting memories together as they visit the city.
Romantic Punting Tour Information
Your Romantic Tour can be booked in advance with an option to add a half bottle of sparkling chilled Champagne, ready to enjoy on your tour together. You'll enjoy 45 minutes together on a luxurious punt gliding through the impressive College Backs.
Your tour will take you through one mile of the most beautiful riversides in England. You'll see elegant bridges, sublime buildings, famous bridges and spectacular buildings.
As you make your booking, you will have the option to add an extra of a half bottle of champagne to your tour – please choose this if you are booking the Champagne Romantic Tour. Both of you must be over 18 and we will supply a chilled half bottle of chilled Champagne and two flutes. .
You're welcome to bring something to eat to take on your tour. All our punts have little tables for your use on the tour and raised seats for your comfort, aiming to create the best experience. Please call us at 01223 322200 for special requests and last-minute appointments, and we will try our best to accommodate you.
Where To Go
Check-in with our crew at our Bookings Desk, which is just a short stroll along the boardwalk from Quayside or up from our Jesus Green Moorings.
Our boats and employees dress appropriately for the weather on the day. On hot days, your guide will wear a waistcoat or shirt, and perhaps braces. Our boats are decked out with cushions and blankets, and on your romantic excursion, there are petals in the boat. During the cooler months of the year, your guide will wear a professional coat, and your boat will also carry additional blankets, umbrellas, and hot water bottles in case the weather changes.
What to do if you're running late? Your booking will be held for you for 5 minutes, after this point it wouldn't be possible to go on the tour as this would mean missing our later bookings. Please call us the moment with delays to your schedule as soon as you know and we'll try to rearrange timings for you.
Head to see our team at the Jesus Green Moorings to start your experience.