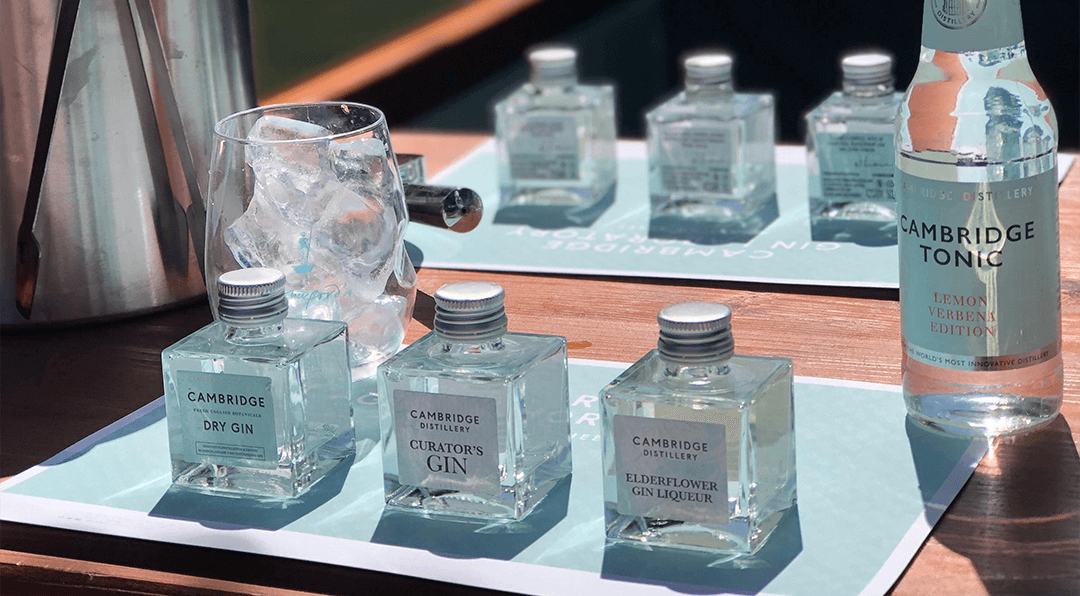 Cambridge Punting with Gin – Our luxurious Cambridge Gin Punting Tour offers the perfect opportunity to enjoy that sacred juniper berry tipple – the British gin and tonic.
Partnering with the multiple award-winning Cambridge Distillery, we've created a new punting experience. Discover the aromas of English gardens and meadows through three generous doubles in miniature bottles, served over ice with effervescent tonic.
This Cambridge distillery developed a novo-dimensional distillation matrix in which temperature, timing and pressure are just three of the nine variables that they use to tailor the treatment of each botanical. This means they can distill the freshest and most delicate botanicals and achieve a level of precision vastly beyond that of traditional distillation.
Your experience will include the chance to sample a tempting trio including their famed Cambridge Dry Gin, their Curator's Gin and an Elderflower Gin Liqueur:
Curator's Gin
Fresh lemon lavender, ginger, rosemary and crisp apples from Sir Isaac Newton's tree combined to create an outstanding intense and floral gin.
Cambridge Dry Gin
Traditional juniper combined with basil, rosemary, rose petals, angelica seed, blackcurrant leaf and an effervescent citrus finish of lemon verbena, together creating a drink with aromatic and sensorial delight.
Elderflower Gin Liqueur
A vibrant liqueur that is created in tribute to the English summer; inspired by the enchanting, fragrant elderflower that blooms on the banks of the River Cam in the heart of Cambridge.
Book to tour the historic city on a luxurious punt tour and take part in the time-honoured tradition "Gin O'Clock" on a punt with your friends, recognised gin enthusiasts or not!
Join us to sip a beautifully balanced gin and tonic served over ice as you tour the spectacular scenes on our College Backs tour. This experience is a MUST DO for all gin-lovers when visiting Cambridge.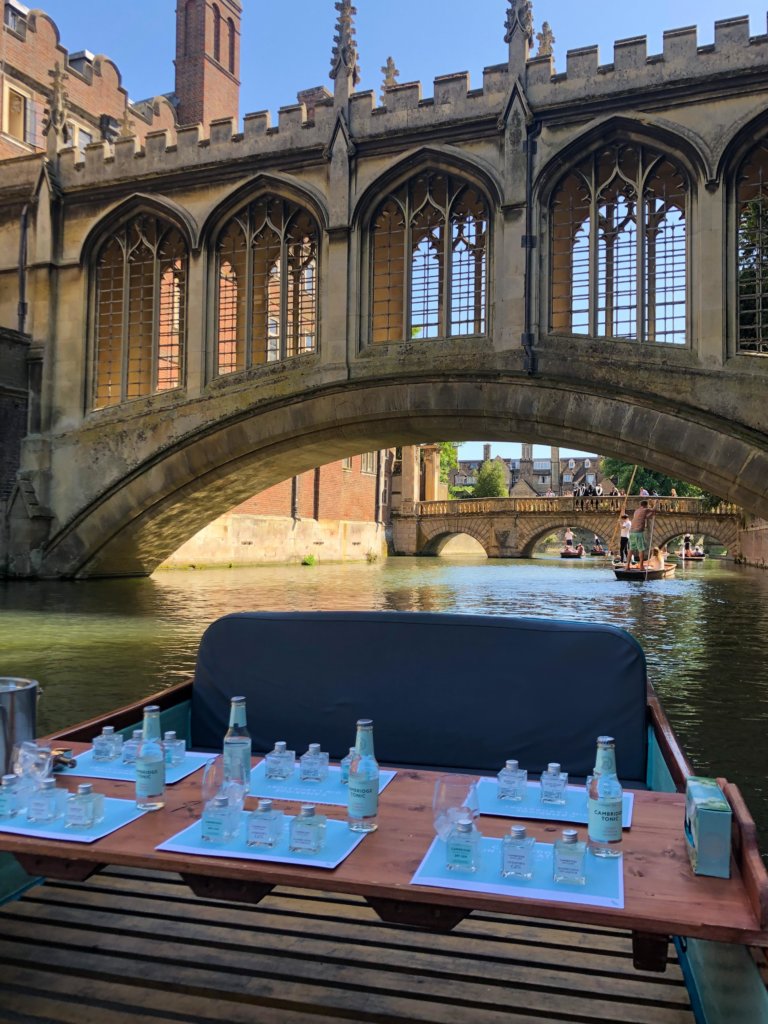 Our Gin Punting Experience – At A Glance
Join us for our 'Best Told Story' Rose Marque award-winning 45 minute private punting tour of the sublime Cambridge College Backs
Enjoy three sensational gin tipples on your punting tour, each created in Cambridge's very own gin distillery. The perfect afternoon on the river.
Our expert guides will lead you through the very best stories with the amazing facts behind the creation of the University of Cambridge and our city
Gin Punting Tour Information
Our 45 minute gin punting tours are bookable in advance and will be waiting for you at your chosen time. Head directly to our Jesus Green Moorings just 2 minutes along the boardwalk from the Quayside to take your tour – it'll be set up and ready to go.
Your tour will glide through the spectacular Backs, past Cambridge's ostentatious riverside Colleges, and some (most) of the very best architectural delights in the city. The scene is simply sublime!
Your booking includes three sumptuous Cambridge Dry Gins per person, served over ice with traditional tonic. This experience is for over 18s only and ID may be requested by our team.
You're very welcome to bring along picnics, nibbles and other drinks on our private punting tours. Each of our boats has a little table and raised seats for the best experience. You can also bring your dog and best of all there's no extra charge for your best friend!
What to do if you're running late? Your gin punting booking will be held for you for 5 minutes, after this point it wouldn't be possible to go on the tour as this would mean missing our later bookings.
Please call us the moment you know of any delays to your schedule and we'll try to organise things to accommodate you. For special requests or last minute bookings, please contact our Bookings Team on 01223 322200.
Head to see our team at the Jesus Green Moorings to start your experience.