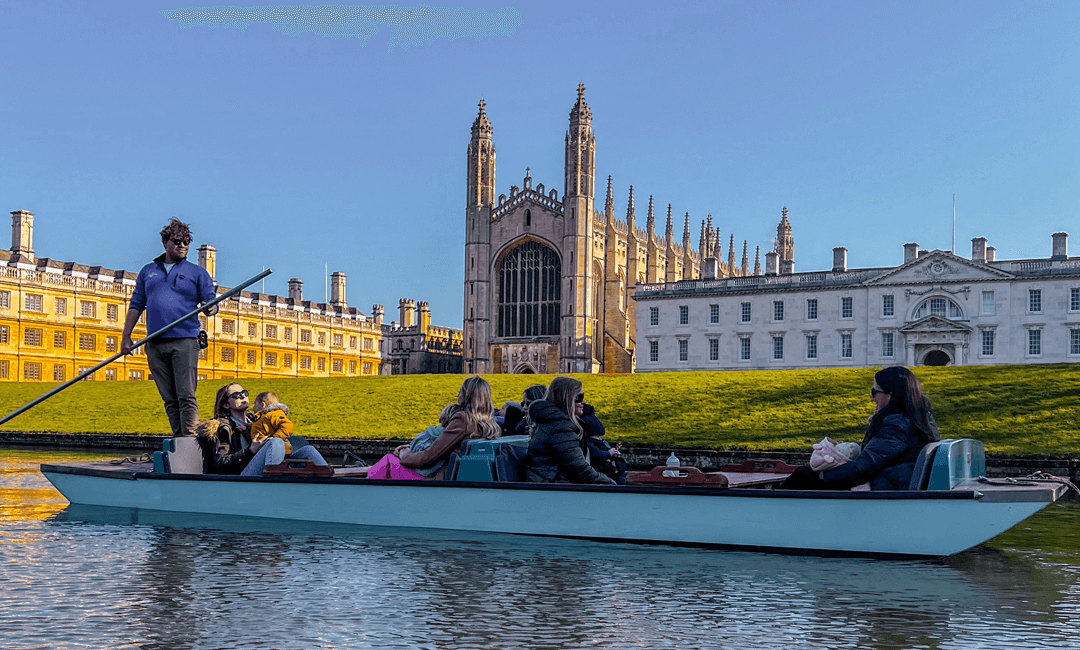 We invite you to enjoy a moment of transcendence on our cream tea punting experience, away from the distractions of the mad and frantic world.
Join us to find out why the British are crazy about tea and scones on a marvellous punting tour as you listed to an award-winning tour of Cambridge.
Our cream tea punting experience includes freshly baked traditional scones served with lashings of clotted cream and strawberry jam accompanied with a cup of finest English Breakfast tea.
Savour the sweet flavours as you glide along the peaceful and serene College Backs. This quintessentially English experience combines our 45 minute punting tour with a traditional cream tea from the famous Cambridge delicatessen , Fitzbillie's.
Evolutionary cream tea punting experiences.
Join us and sample Cambridge's rich history with refreshing afternoon tea and find yourself catching the cream tea punting bug.
Cream Tea Punting Information
Our 45-minute Cambridge cream tea punting tours are bookable in advance and will be waiting for you with freshly prepared scones and refreshing British tea.
Please call us on 01223 322200 to let us know about any dietary requirements in advance.
Head directly to our Jesus Green Moorings just 2 minutes along the Quayside boardwalk to take your tour – your boat will be set up and ready to go at your chosen time.
Our cream tea tours can be booked throughout the day. Our pricing indicates the number of people that you can bring with you on your tour, boat prices having a maximum of 6 or a maximum of 12 passengers.
For last-minute bookings, please contact our Bookings Team on 01223 322200.
You're welcome to bring your dog with you for the experience and best of all there's no extra charge for your companion.
Both our boats and our employees will be dressed for the weather on the day. If it's sunny, your guide will be wearing a waistcoat. Alternatively, at colder times of the year, your guide will wear a professional boating coat and your punt will be equipped with umbrellas.
What to do if you're running late? Your cream tea punting booking will be held for you for 5 minutes, after this point, it wouldn't be possible to go on the tour as this would mean missing our later bookings.
Please call us the moment you know of any delays to your schedule and we'll try to organise things to accommodate you.
If you're looking for bigger bite, then opt for our amazing picnic punting experience which is modelled on the traditional British afternoon tea.
Head to see our team at the Bookings Desk at our Jesus Green Moorings to start your experience.