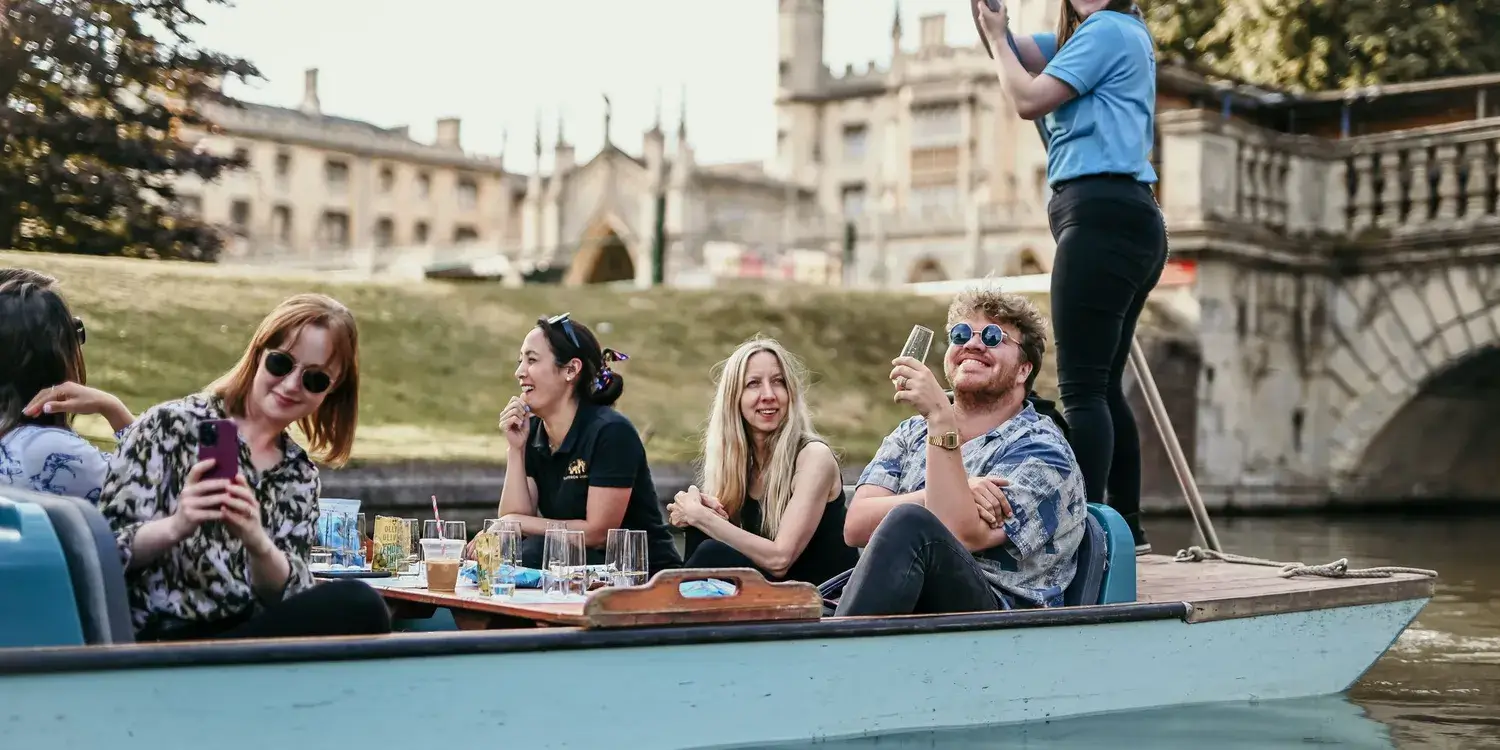 Make room on your bucket list, Prosecco Punting in Cambridge makes a great way to add treasured memories with your besties, family or even (we're told) colleagues.
You'll travel for 45 minutes with your own guide, sitting comfortably with our carefully raised seats and with little tables for your nicknacks, bubbly Prosecco and nibbles.
You'll see the best of Cambridge's riverside Colleges, including the famously romantic Bridge of Sighs, the spectacular St John's New Court (aka The Wedding Cake), classical King's College Chapel, the cryptic Mathematical Bridge and more). You'll also take a fascinating journey through time to the present day on our fully researched and award-winning tour – we're holders of the Best Told Story accolade for a reason.
Book your tour to toast with friends as you travel through history on an upgraded traditional punt.
Prosecco Punting Information
You must be 18 years or older to enjoy this tour. We follow the Challenge 25 rule and you may be asked to show an approved ID (passport or driving license) on arrival.
Your experience includes bubbly cool Prosecco and Rutherford's flutes for your group. Tours are priced for up to 6 people (one bottle of Prosecco) or up to 12 people (two bottles of Prosecco).
You're welcome to bring nibbles and soft drinks with you on your tour and recommend ordering as you check out. You'll find your order ready and waiting for you on your tour.
We also welcome canine companions on the journey so feel free to bring along your best friend!
Our upgraded traditional punts include raised seats for your comfort and little tables for your use. Both your boat and your guide will be dressed for the weather on the day. If it's sunny, there will be no hot water bottles or umbrellas and your guide will be wearing a waistcoat. Alternatively, at cooler times of the year, your guide will wear a professional coat and your boat will be equipped for our capricious weather.
Where To Go
Head directly to our Jesus Green Moorings just onto the boardwalk from Jesus Green, or 2 minutes along the boardwalk from the Quayside to book in with our team. For last-minute bookings please contact us on 01223 322200 and we'll do our best to organise a boat for you.
What to do if you're running late? Your Prosecco punting tour will be held for you for 5 minutes, after this point it wouldn't be possible to go on the tour as this would mean missing our later bookings, affecting other customers. Please call us the moment you know of any delays to your schedule and we'll try to organise things to accommodate you.
Head to see our team at the Bookings Desk at our Jesus Green Moorings to start your experience.