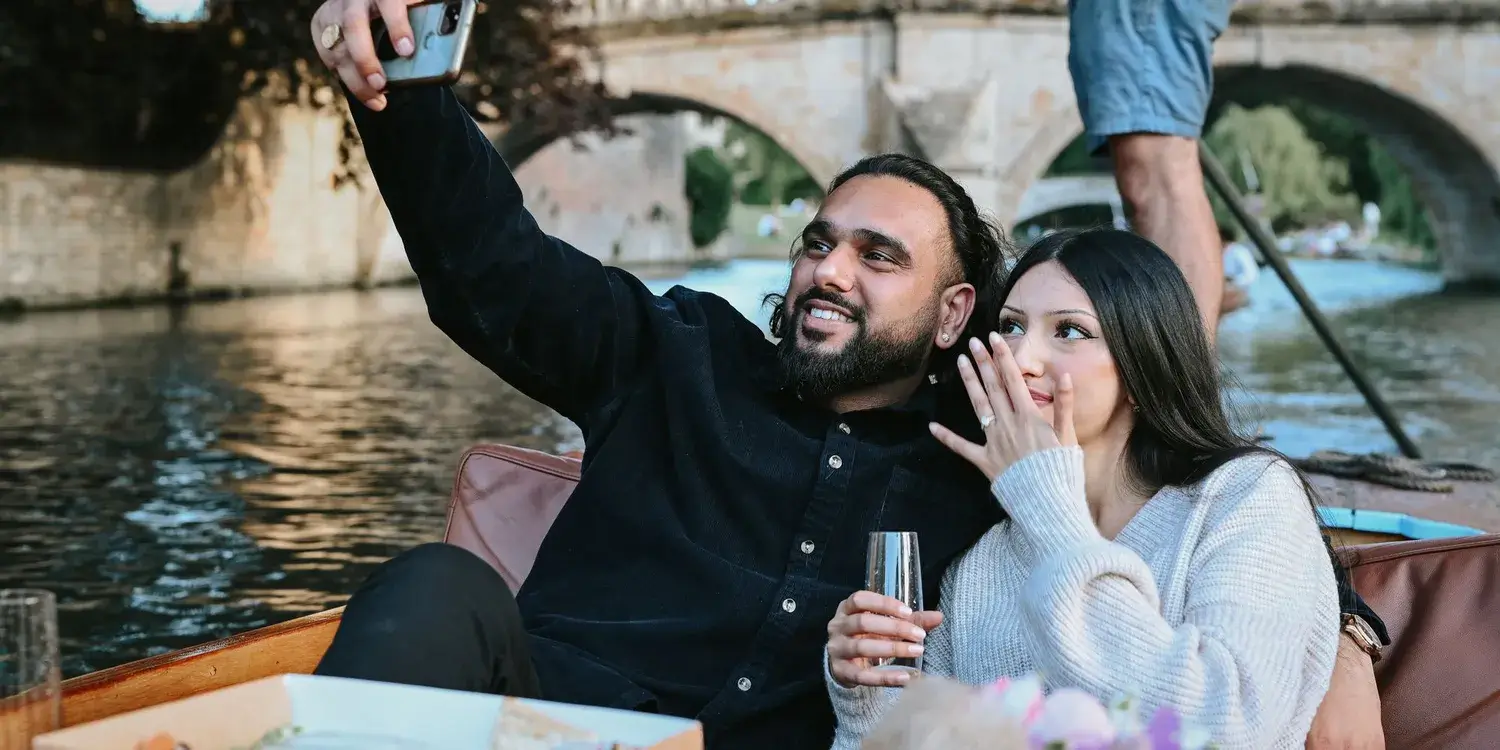 Your proposal story is one that will be told to friends and strangers for years to come, so make sure it's one to remember with our Proposal Punting tour.
What could be better – popping the question to your loved one whilst floating on the River Cam, surrounded by some of Cambridge's most spectacular and romantic sights.
Your punt will be decorated with rose petals to make for a flawless proposal, the trip also includes a magnificent bouquet of celebratory flowers for the big occasion and can be further customised upon request.
When you book online, we will contact you to discuss your proposal plans and assist you in organising the experience.
We'll guide you in selecting the prime location for the big event. You may pick from a handful of places, including the majestic St John's College Bridge of Sighs and classic open views at King's College Chapel.
When planning your proposal, our advice is to put your own spin on our punting experience. You'll be able to arrange personal touches that will make your day unique.
Our photographer option is available for proposals under the renowned Bridge of Sighs, where your photographer can stay out of sight to capture the beautiful moment.
Please choose the proposal punt and photographer tour from the menu. The photographer will photograph the proposal, then accompany you for close-ups and, if desired, staged photographs at different locations.
On the day, your boat will be dressed with plush cushions and cosy blankets and adorned with beautiful petals in the boat. Your guide and your boat will be ready to board at the time you've chosen.
Our award-winning punting tour is an iconic Cambridge experience and the perfect way to enjoy some traditional romance. Relax and enjoy the romantic setting with your partner as your expert chauffeur punts you along the College Backs.
At the arranged location, your guide will fall quiet and then the rest is up to you! We've got your back and will work to ensure that the day goes smoothly.
Quintessential Cambridge romance!
Proposal Punting Information
If you're looking for your proposal to make a splash then you've come to the right place! Our proposal tours are bookable up to 48 hours in advance. Your guide will call you to arrange the details, such as where you wish to pop the big question!
If you've opted for photographer, they will liaise with your guide to ensure that they are in the best location for the shoot. You'll have a chance to do some staged photographs after the proposal, as well as the natural photographs of the moment itself.
On the rare occasion that all of our photographers are prebooked, we'll call you to discuss either moving the tour or refunding the punting proposal photography.
For last minute bookings please always contact us on 01223 322200 and we'll do our best to organise things for you.
When you're ready, check in at our Jesus Green Moorings, a short walk along the boardwalk from Quayside.
Our boats and our employees dress according to the weather on the day. On warm days your guide will wear a waistcoat or a crisp white shirt and braces. Our boats are dressed with cushions and blankets with petals decorating the boat.
In cooler months of the year, your guide will wear a professional coat and your boat will also include extra blankets and hot water bottles with umbrellas in case the weather changes.
What to do if you're running late? We'll hold your booking for 5 minutes, after this point it wouldn't be possible to go on the tour as this would mean missing our later bookings. Please call us the moment with delays to your schedule as soon as you know and we'll try to rearrange timings for you.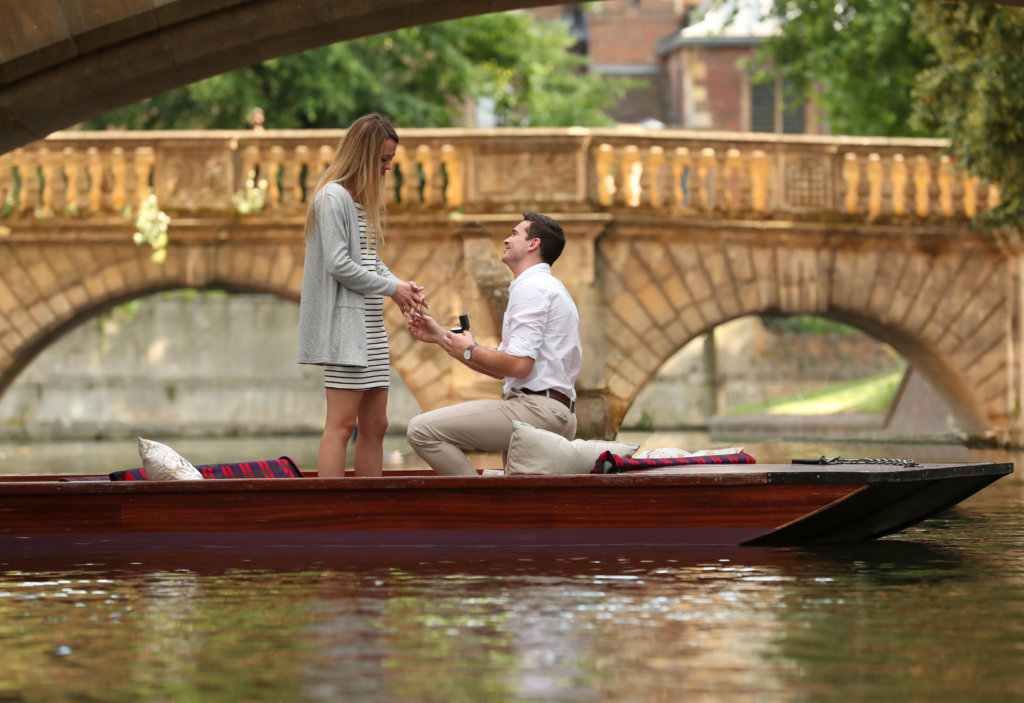 Head to see our team at the Bookings Desk at our Jesus Green Moorings to start your experience.