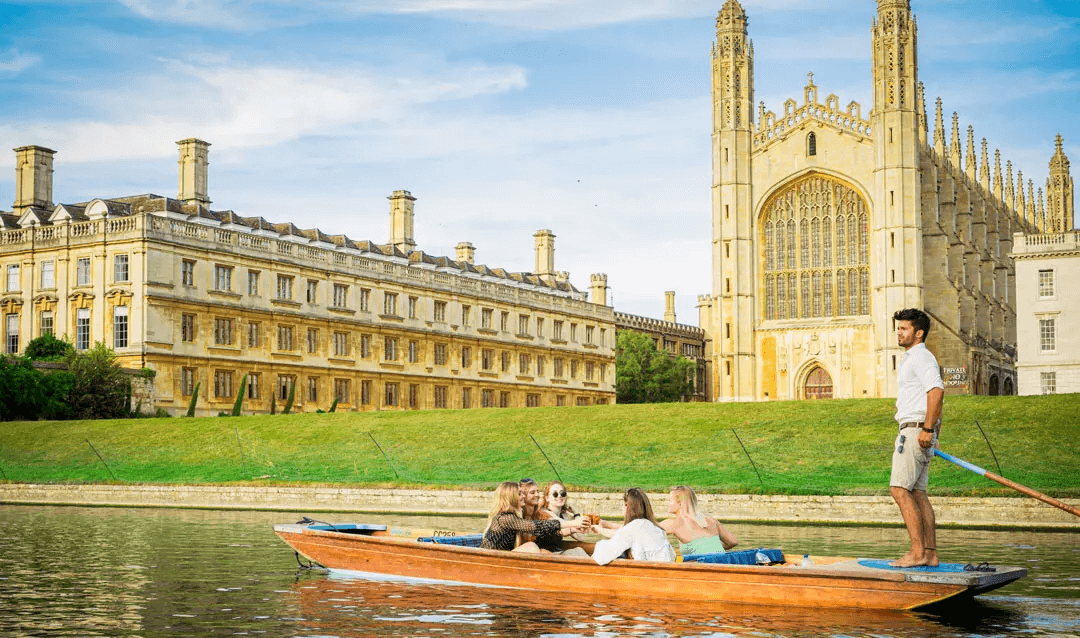 ***COMING SOON*** Pimm's and Punting – the perfect summertime duo. It's hard to get more British than this Pimm's Punting Tour!
Take in that sunshine with a Cambridge twist, on the river accompanied with a heavenly ratio of Pimm's and lemonade dressed the traditional way with strawberries, mint and cucumber.
This experience is perfect for a party or a great afternoon with friends. Enjoy 45 minutes touring the beautiful College Backs with your very own chauffeur as you sip the country's favourite summertime tipple, Pimm's and lemonade.
Savour the flavour of English summer whilst your tour guide tells you the best Cambridge legends on our VisitEngland accredited tour. The Pimm's tour offers an entertaining snapshot of Cambridge's rich history.
Your boat will be set up with comfortable cushions and will be waiting for you with your guide, ready to go at the time that you choose. Our tour guides are proud winners of the Best Told Story accolade from Visit England and our tours hold the prestigious Rose Marque.
Pimm's and Punting Information
You'll need to be 18 or older on the day to enjoy this tour. You may be asked for approved ID (passport or driving licence) on arrival if you're lucky enough to look young!
Our 45 minute Pimm's tours are bookable up to 24 hours in advance. Light and refreshing, your drinks will be served in tumblers from a traditional large pitcher with strawberries, mint, cucumber and ice.
Our pricing indicates the number of people that you can bring with you on your tour. Boat prices having a maximum of 6 (1 pitcher of Pimm's) or a maximum of 12 passengers (2 pitchers of Pimm's).
You're welcome to grab some nibbles and soft drinks to take on your tour. As with our private tours, you are also welcome to bring your canine friend along for the adventure.
Check in with our team at our Jesus Green Moorings just 2 minutes along the boardwalk from the Quayside.
Our team and our punts will be dressed for the weather on the day. If it's sunny then your guide will be wearing a waistcoat. Alternatively, at colder times of the year, your guide will wear a professional coat and your boat will be equipped with umbrellas.
What to do if you're running late? Your Pimm's booking will be held for you for 5 minutes, after this point it wouldn't be possible to go on the tour as this would mean missing our later bookings, affecting other customers. Please call us the moment you know of any delays to your schedule and we'll try to organise things to accommodate you.
For last minute bookings please contact us on 01223 322200 and we'll do our best to organise a boat for you.
Head to see our team at our Bookings Desk by the Jesus Green Moorings to start your experience.