Cambridge Punting & Walking Tours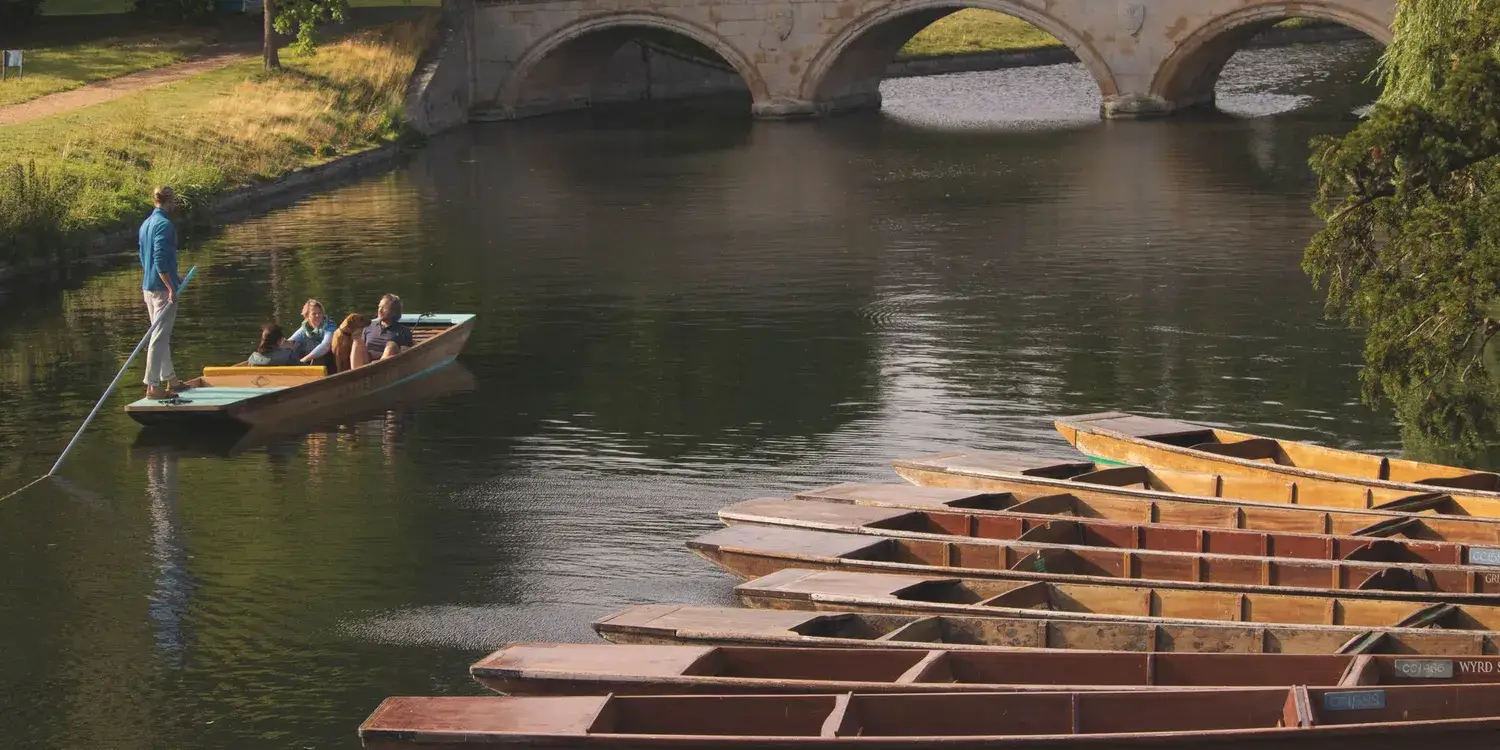 The combo of a punting and walking tour has been designed to give you the very best introduction to the city with all the Cambridge highlights on and off the river.
This Cambridge tour is ideal for first-timers, curious travellers, prospective students, staycationers or day-trippers wanting to make the most of their time during their stay.
Your punting tour will be led on the river by your Rose Marque Punting Guide, with your walking tour through the heart of the city led by your qualified Green or Blue Badge Guide.
We'll make sure you know who to believe and can sort the fact from the fiction, covering all the city centre's must-see sights. You'll have the opportunity to soak up the very essence of Cambridge with its compelling atmosphere on and off the water.
Combo Punting & Walking Tour
We've partnered with the official Cantab to ensure that our Punting and Walking Tours are the best way to see the city. You'll travel back in time to discover how the city has become the wonder that you see today.
On your 45-minute punting experience, you'll see the beautiful King's College and its Chapel, the elegant Clare College, the decorative St John's College with its majestic Bridge of Sighs and New Court, and more!
On your 90-minute walking tour, you'll walk through a thousand years of human history: from an Anglo-Saxon church tower to a novel and controversial clock that doesn't keep the time! See the rooms where Newton wrote his theory of gravity and the pub where Watson & Crick announced one of the greatest discoveries of the twentieth century.
Of course, Cambridge is nothing without its students, and you'll hear all about their escapades – both academic and otherwise. Explore the iconic sights of the city as you hear about the Cambridge people that changed our world
Punting and walking, there's gothic and neoclassical architecture everywhere and you'll find Cambridge is overflowing with stories just waiting to be told.
Join us for the ultimate Cambridge tour experience – the perfect way to see the city.
Private Cambridge Tours – Using Your Tickets
Your private tour experience means that you'll have 100% of your guide's attention! Choose how much you want to hear and ask as many questions as you like. Plus these bespoke city tours can be tailored further to your needs on request, get in touch with the team on 01223 322200.
Tours can be booked between 10.15 am and 4.45 pm Monday to Saturday, and between 12.15 pm and 4.45 pm on Sundays.
Tours run consecutively: Your private punting tour is for 45 minutes and can be booked for your chosen time and date. Your personal guide will meet you at our Jesus Green Moorings to begin your walking tour, 15 minutes after your punting tour finishes.