Saffron Grange Wine Punting
Sparkling Summer Punting
Start your weekend off in style as you sample three celebrated Saffron Grange vintages on a wine tasting punting tour gliding through the glorious Cambridge College Backs.
After work, jump on our shared experience and join us to savour some divine flavours and see the sights on the river on this 45 minute punting experience. Travel past the University of Cambridge's prestigious riverside Colleges and their architectural and scenic delights whilst sampling three impressive English sparkling wines on a punt.
Your Saffron Grange Host will take you through the tasting and tell you the history of this fantastic local vineyard, English sparkling wines and more. The three wines from saffron grange will be teamed with a tasting pack including a rose macaron, salt and vinegar crisps and olives with thyme and lemon.
Your tasting includes a deviously esoteric Seyval Blanc Reserve, followed by the gloriously celebratory Classic Cuvée, and concluding with a whimsically revitalised Sparkling Rosé. Each tasting guided by Saffron Grange vineyard experts and served in our archetypal stemless glasses. Paired with matching nibbles, this is the perfect punting experience to kick off your Friday night.
Enjoyed perfectly with this educational experience, Rutherford's own knowledgeable tour guide will be on hand throughout to keep you gliding in the right direction and entertain you with fascinating nuggets of information about your surroundings.
We have partnered with Saffron Grange to offer the ultimate alfresco wine tasting experience this summer. These are exclusive shared event experiences, bookable on Friday evenings only.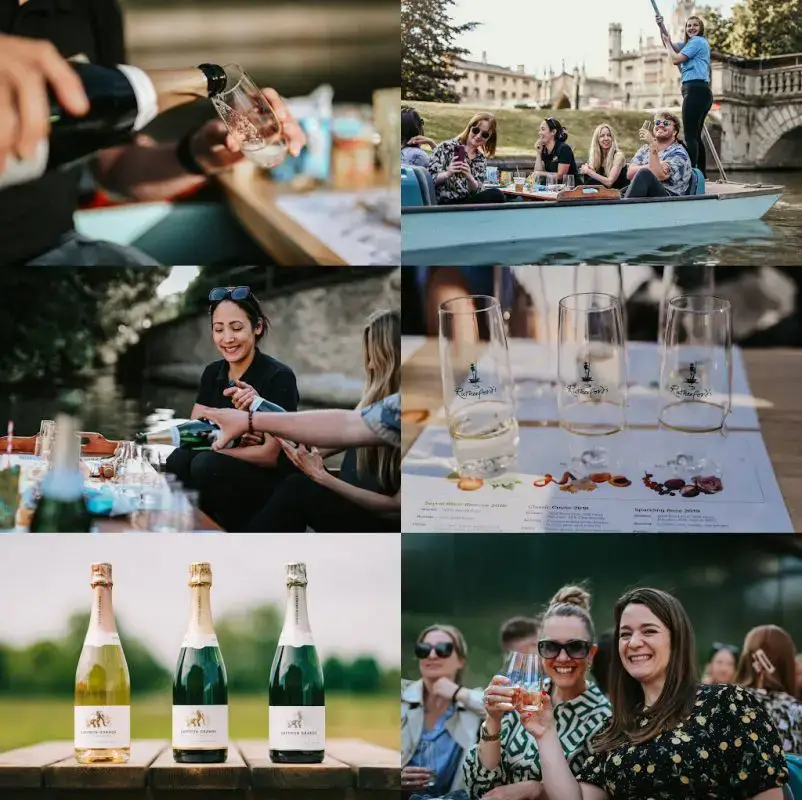 Saffron Grange Wine Punting Information
This Summer, we're hosting exclusive punting events with Saffron Grange. On tour, you'll enjoy the sights and sounds of the iconic College Backs, and sample three revered vintages from Saffron Grange's English sparkling wine range.
This wine tasting punting tour includes three award-winning wines, the Seyval Blanc Reserve, followed by the Classic Cuvée, and the Sparkling Rosé. Each wine has also been specially paired with a delectable snack to make the flavours truly dance with your taste buds.
Saffron Grange is an acclaimed English sparkling wine vineyard, located just 20 miles from Cambridge. The family vineyard grows carefully selected grapes at the tip of the chalk seam running up from France's premier wine and Champagne regions to produce admirable and refined vintages.
If your interest is piqued, book your place. Seats on the tours are limited and these exclusive events usually sell out.
Salut!
Dates for Summer 2023:
July
Friday 14th July 2023, 19:00
August
Friday 18th August, 19:00
Head to see our team at the Bookings Desk at our Jesus Green Moorings to start your experience.