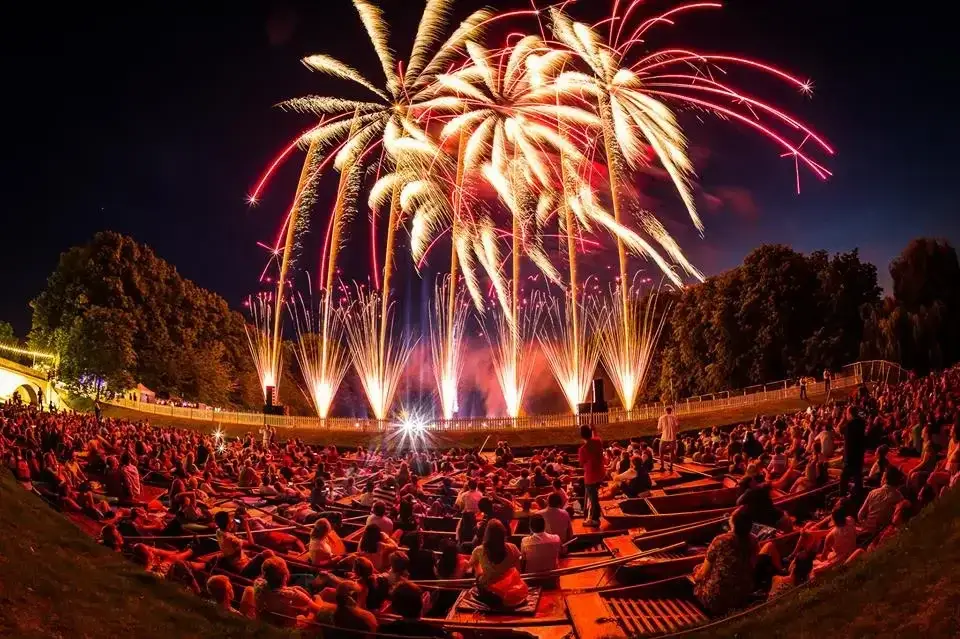 May Ball Fireworks Punting
For a jaw-droppingly beautiful and oh-so Cambridge experience, book a May Ball Fireworks Punting Tour with your own chauffeur to glide along the Backs on one of these magical evenings in June.
Rutherford's firework punting experience is your opportunity to be a part of the opulent University of Cambridge summer parties in May Week, a misnomer as they take place each year in June.
Throughout May Week, the Colleges of the University of Cambridge put on a lavish May Balls, Garden Parties and June Events to celebrate the end of the academic year. As a student, the parties represent a chance to cut loose and party before heading off for the summer. The most famous of these Balls include out-of-this-world choreographed glitzy firework displays, alongside the chance to see top music acts and an excuse to wear your very best gear.
Tickets to the celebrations are tricky to get hold of and are coveted by everyone both in the city and further afield. If you're not one of the lucky few with a ticket, then the very best place to enjoy the events and the best firework displays is from the river.
Even if your student days are over you don't have to miss out. Book your Fireworks Punting Experience and your guide will claim pole position for you to experience the out-of-this-world choreographed glitzy firework displays. See the celebratory frolics taking place on the banks as the future of our society celebrate the end of the academic year.
The atmosphere on the river itself is captivating and your punt join a flotilla of punts, an armada of people in a celebratory mood. You'll see students dressed in sumptuous ball dresses or stylish tuxedos on the banks and the river decorated in sparkling lights, often according to the theme of the May Ball.
There are two nights on which you can share these unique experiences from the river:
Monday 19th June 2023 – Trinity May Ball
Trinity's out-of-this-world fireworks put on a show that's not to be missed every year with the best choreography and music to kick start the party!
Tuesday 20th June 2023 – St John's May Ball
Named as the world's seventh best party by Time Magazine, these fireworks are in a class of their own.
Your guide and punt will be awaiting your arrival, aiming to leave from around 9:00pm so that we can ensure that you have a great position to view the fireworks on this, the busiest night of the punting year. You'll enjoy time to speak to your companions, drink, eat, laugh and share the night as you wait to bear witness to these exclusive traditional events. Champagne celebrations are ubiquitous both on the river and in the May Ball itself, with people on the punts in a party atmosphere as they anticipate the impending displays.
Firework displays start at around 10.30pm to cheers from the students and the punting crowds. The displays are usually around 15 minutes of choreographed fireworks to a mix of music from classical to mainstream popular culture. The style of the show will be difficult to predict although usually around the ball theme. The displays include every type of firework and light lasers, there's even been confetti cannons in the past! The grand finale can be heard across Cambridge and beyond!
Post fireworks, the punt fleet breaks up quickly and every boat makes a beeline back to their respective moorings. The river at this time is alive with hustle and bustle, adding adventure to your night as our experts navigate their way through the madding crowds to the Jesus Green Moorings from which you departed earlier in the evening.
Join us for the punting highlight and night of the year!
Fireworks Punting Information
Our firework punting experience usually lasts up to 2 hours (depending on position and the return journey adventures). You must book in advance, this is a sell out event. Your Fireworks Punting Tour will be waiting for your arrival with earlier departures getting the best views.
There are two options to choose between – a private experience for you and your chosen few, or jump on one of our outstanding shared fireworks tour experiences, with prices available per seat, row and section!
Please contact us directly to discuss special requests, flowers, nibbles and refreshment including bottles of chilled Champagne. We'll make sure that they're ready for you on the day. You can reach us on 01223 322200.
On the night, check in with our team at our Jesus Green Moorings to be ready to board your tour for 9pm. Our boats can seat a maximum of 12 friends. You're very welcome to bring along picnics, nibbles and drinks on our boats – in fact we recommend it for this experience.
Our punts will come equipped with cushions to ensure a comfortable experience. Our employees will be dressed for the weather on the evening and your boat will be equipped with an emergency umbrellas – just in case the weather changes!
Please note, there is no access to restroom facilities on this experience and therefore please make sure you answer the call of nature before you board to ensure that you're not caught short!
What to do if you're running late? Please call us the moment you know of any delays to your schedule and we'll try to organise things to accommodate you. It's important to note that the best spots are grabbed on a first come basis and therefore lateness may affect your viewing position!
Head to see our team at the Jesus Green Moorings to start your experience.